Our Privacy Policy
Ozalas & McKinley respects your privacy. This explains our policies for this website. We seek out information about the visitors to this site, such as the numbers and frequency of visitors to our Web site and each of its areas or pages. We only use such data in the aggregate. We may use this aggregated information to evaluate which legal services are in demand.
Please keep in mind that whenever you voluntarily and publicly disclose personal information on any online service or Web site - for example through e-mail - that information can be collected and used by others. We have made our e-mail address available below, but suggest that users contact us via Fax number in the left column or by telephone. We strive to protect your personal information, however Ozalas & McKinley cannot ensure or warrant the security of all information you transmit to us via e-mail, and you do so at your own risk.
For more information about our privacy policy and your rights, contact Ozalas & McKinley by calling 570-325-3616. Information provided on this site is not intended to be legal advice. Consult an attorney for personal advice.
Serving NE PA
---
47 Broadway
Jim Thorpe, PA 18229
570-325-3616
Directions
---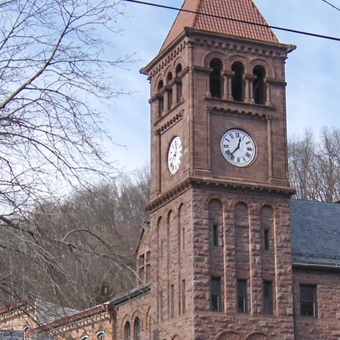 Courthouse in Jim Thorpe.
---
Offering Professional Legal Services in Carbon, Monroe, Lehigh, Northampton and Schuylkill Counties in Northeastern PA.
---
Listen to a personal message from the Law Office.
---
Need Help?
---